Price

USD$

Our price:

USD$

Use bonus points

pt.
Abstract:
Within this type of environment there are a number of issues to be considered in designing the ASD system. These being:
High Ceilings

Stratification

Compartmentalisation caused by racking/shelving

High fire load

Maintenance acces

External/internal pollutants
For open warehousing the recommendations given in section 8.3 for spacing and height limits should be followed with special consideration being given to the compartmentalisation that is determined by the racking/shelving.
Special attention should also be given to specific areas such as forklift truck re-charging areas, control systems, loading/docking areas and electrical distribution equipment.
Ceiling detection



A "code compliant" design may be achieved using a Class C ASD system mounted on the ceiling as an alternative to point detectors thereby providing advantages both in terms of installation and maintenance and in improved performance on account of the cumulative effect.
However, in recognition of the large fire loads and high values associated with storage it is often advantageous to provide enhanced protection at the ceiling particularly in areas where items are stored above head height. Hence it is recommended that in any area with storage above head height, a ceiling mounted Class B ASD system should be installed with sampling holes spaced according to national guidelines (e.g. max 7.5m from any location on the ceiling according to
BS 5839-1).
Ceiling mounted sampling points should be positioned above the aisles wherever possible, particularly where the rack height is >90% of the ceiling height.
Note: BS 5839-1 recommends that where racks reach within 300 mm of the ceiling, the storage racks should be treated as walls that extend to the ceiling and as such detection should be provided in every aisle.
Note: In some cases it may be practical to run pipes across the aisles with spacing >10m and with sampling holes spacing <10m positioned above the aisles (see Figure 4). In other cases (particularly retrofit projects) it may be more practical to run pipe along
the aisles (see Figure 5). The former is likely to require shorter pipe runs and can cover every aisle while the latter, which may be more convenient to install, will either require more pipe OR may only provide sampling above every other aisle which may not be optimal. Furthermore, many warehouse layouts have long aisles and it may be more practical in terms of transport time and the provision of a floor height maintenance test point to run pipe across the aisles. The decision depends on the particular characteristic of the warehouse to be protected.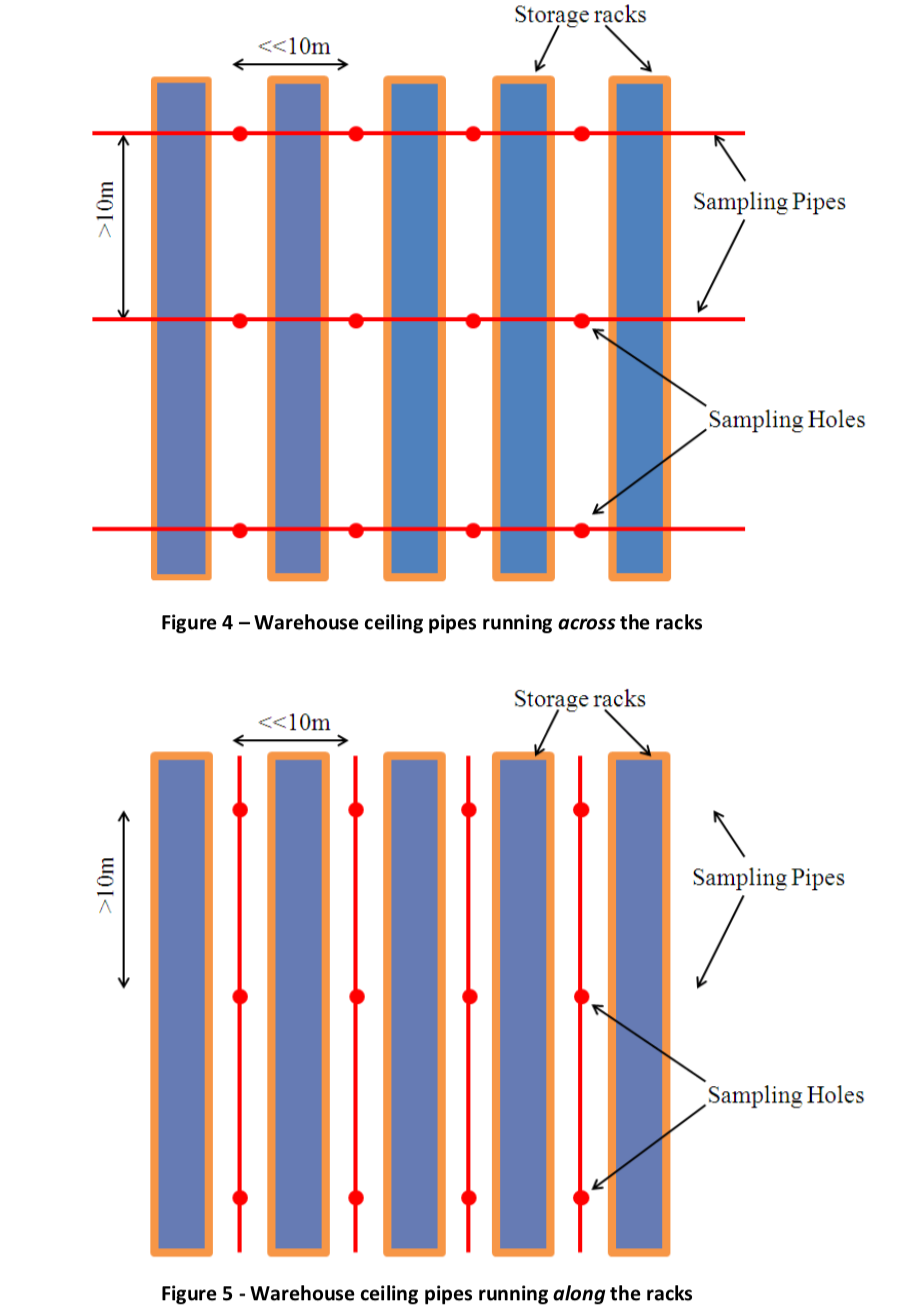 In–rack detection



For many warehouses additional detection within the rack is often desirable. The following points provide recommendations which are applicable in whole or part to the majority of warehouses – subject to the particular risks and characteristics of any individual project.
When protecting warehouses with high racking/shelving, sampling point should be provided within the rack commensurate with the fire load created by the stored items and the height of the rack. A higher density of sampling holes in the horizontal plane is recommended to reduce the possibility of smoke passing between sampling holes. A maximum horizontal spacing of 6m is recommended.

Where rack heights extend above 8m, in-rack sampling should be provided. The top level of in-rack sampling should be within the top 25% of the rack height and no less than 10m from the ceiling. Additional levels of in-rack sampling should be provided to ensure a maximum vertical spacing of 8m. Thus racks where rack heights exceed ~10.5m are likely to require two levels of detection and racks over ~21m are likely to have 3 or more levels of sampling.

Where multiple levels of sampling are provided each level should be offset to the one below to minimise the possibility of smoke rising vertically and passing between multiple layers of sampling points.

Note: where practical considerations suggest that a vertical pipe solution is preferable this recommendation, may be omitted provided that the horizontal spacing (see point 1) is less than 4m

The positioning of pipework and sampling holes within the rack will depend on the details of the racking and items to be stored. In general there are two options:

A) Position the pipework and sampling holes within the space between back-to-back shelving B) Position the sampling holes at the shelving edge, adjacent to the aisles

Aisle-side sampling is likely to provide more reliable and faster detection as it closer to the likely ignition source (e.g. vehicles in the aisles) compared to detection in the central "chimney" (if present in the space between back-to-back shelving). However, while aisle-side sampling may be easier to install and test, it is more exposed to risk of mechanical damage. The decision needs to be on a case by case basis in the knowledge of the rack design, the fire risk of the materials stored and the operational activities.

Note,when using aisle-side sampling it is not generally necessary to provide it on both sides of the aisle unless the aisle is very wide (e.g. >3m). However, where multi-level sampling is provided, consideration should be given to offset the levels across the aisles.
These recommendations are illustrated in Figure 6 on page 46.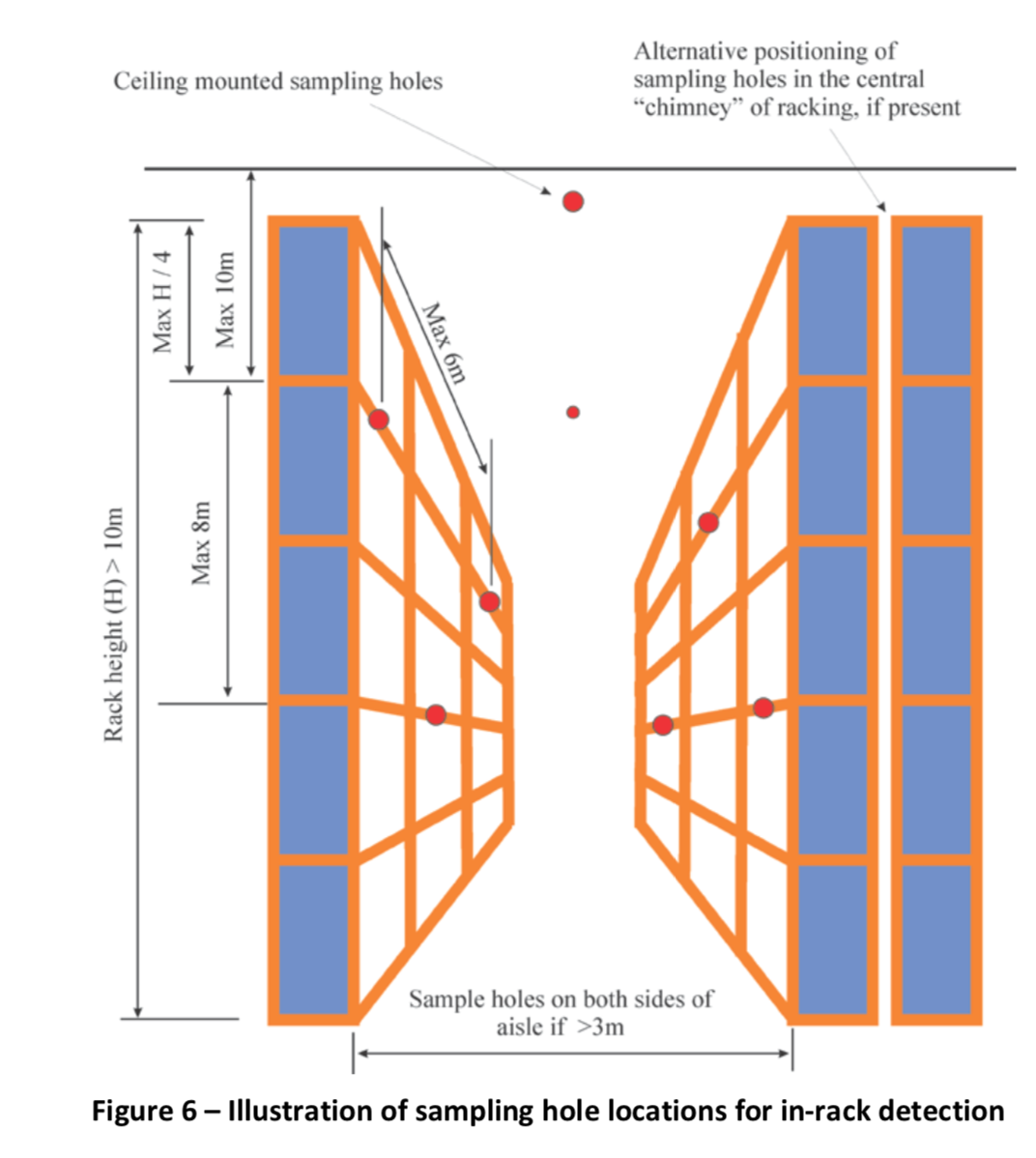 PARTIAL CUSTOMER LIST
Superstore-Cotsco
Neihu/Zhonghe/Xizhi/Hsinchu/Taichung/Kaohsiung/Kaohsiung Dashun/Tainan/Nankan/Chiayi/Taoyuan/Logistics Center/Zhongli Store
Yupei Holdings
Logistics Huaian/City Park